Stepparent & Adult Adoption Attorney, Randall Hicks
SPECIAL NOTICE: Randy does his consultations (approximately 30 minutes and free) by phone or video (Zoom) - your preference. There is no need to leave your home, so no coronavirus worries. To schedule your free consultation, complete a Questionnaire so he knows more about your case to give you a thorough consultation.
Hello, I'm Randall Hicks. Unlike most family law attorneys (who just dabble in adoption and do 99% divorce and child custody), I limit my practice to stepparent adoption and adult adoption, and have limited my practice to adoption for 34 years. My goal is to make step parent adoptions fast (usually only 2-4 months start to finish when the absent parent is consenting), affordable and worry-free.
I love what I do and believe I do a good job for all my clients. Every client gets my home office number as well as my cell phone number, so I can be reached quickly if urgently needed. I am in the latter years of my career and have scaled down my law practice. While most attorneys try to appear "big time," as I've become older I'm proud of my law practice now being "small."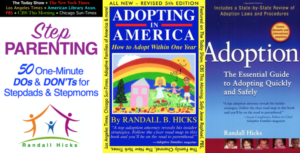 When I first opened my law office right out of Pepperdine Law School, I was a one-man office. I did everything. Me and only me. And I loved it. As years went by, I was fortunate to become successful. My staff grew, I expanded to include an international adoption program in Ukraine, and I wrote several popular adoption/parenting books that were featured on The Today Show and CBS This Morning, as well as other national TV shows that are no longer on the air, like Sally Jesse Raphael, John & Leeza from Hollywood, Mike & Maty and The Home Show. I hosted the 1991 PBS series, Adoption Forum.
Then several years ago I realized I was burning the candle at both ends. I still loved the adoption field, just not on the scale I was doing it. So I stopped arranging both newborn and international adoptions and let my staff go, and have reverted back to how my law practice was when I first started out . . . when I actually enjoyed it the most, personally knowing each client and having plenty of time on each case, and doing all the work myself. I keep things small by now focusing only on step parent and adult adoptions, and only with those cases where I believe the clients and I are a good fit.
Since I do all the legal work myself for each and every stepparent and adult adoption, you deal only with me, with the exception of a receptionist to answer incoming calls. Although I have multiple offices (since my legal focus is so narrow, I need to work over a multi-county area), each office is simply an "executive suite" where there is a shared receptionist, thus keeping my costs down, which in turn lets me keep my fees low. Unlike many attorneys where getting past the receptionist is impossible, I am happy to answer a quick question even for non-clients at the numbers below, or at Randy@StepparentAdoptionCenter.com.
On the personal side, I have two children (now adults) and I'm proud they are brave people contributing to the world. (My daughter is a teacher in Asia, and my son an aspiring filmmaker.) The highlight of my life has been raising my children and watching them grow up. All my cases are important to me because I know your family is just as important to you.
Client Reviews
(Reviews from Avvo.com)
⭐ ⭐ ⭐ ⭐ ⭐ Amazing experience
Posted by Ashley, January 3, 2019
From the very beginning, and every step of the way, Randy was absolutely amazing. His knowledge, professionalism and efficiency were spot on, and his individualized service was much appreciated. This whole experience was life changing, and we will be forever grateful to Randy for his dedication to helping our family.
⭐ ⭐ ⭐ ⭐ ⭐ Flawless execution!
Posted by David, January 2, 2019
Randy handled the adoption of my son. It was absolutely flawless and worry free. He was upfront and kept us informed every step of the way. Highly recommend his service. Thanks again Randy!
⭐ ⭐ ⭐ ⭐ ⭐ Excellent attorney!
Posted by Katelin, December 9, 2018
Randy is an excellent attorney! He was very informative every step of the way through our adoption process. Explained everything in detail and returned all my emails and phone calls right away! I highly recommend him for anyone wanting to start the adoption process. We are very happy we chose him!
⭐ ⭐ ⭐ ⭐ ⭐ Step Parent Adoption
Posted by Danielle, April 16, 2018
Randy is the best in the business! Randy was very thorough about the process and steps we needed to take for our adoption. He made everything as smooth as possible and was always in touch if we had a question or concern. We are very happy we . . . (Read more.)
Click on the office photo above to learn more about stepparent adoptions in your area. When you are ready to schedule a consultation with Randy, please complete his short questionnaire so he can fully advise you when you speak.