Stepparent & Adult Adoption Attorney, Randall Hicks
Hello, I'm Randall Hicks. Unlike most family law attorneys (who just dabble in adoption and do 99% divorce and child custody), I limit my practice to stepparent adoption and adult adoption, and have limited my practice to adoption for 36 years. I love what I do and believe I do a good job for all my clients. I am in the latter years of my career and have scaled down my law practice. While most attorneys try to appear "big time," as I've become older I'm proud of my law practice now being "small."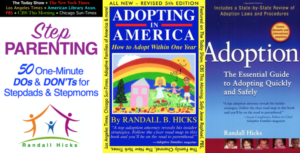 When I first opened my law office right out of Pepperdine Law School, I was a one-man office. I did everything. Me and only me. And I loved it. As years went by, I was fortunate to become successful. My staff grew, I expanded to include an international adoption program in Ukraine, and I wrote several popular adoption/parenting books that were featured on The Today Show and CBS This Morning, as well as other national TV shows that are no longer on the air, like Sally Jesse Raphael, John & Leeza from Hollywood, Mike & Maty and The Home Show. I hosted the 1991 PBS series, Adoption Forum.
Then several years ago I realized I was burning the candle at both ends. I still loved the adoption field, just not on the scale I was doing it. So I stopped arranging both newborn and international adoptions and let my staff go, and have reverted back to how my law practice was when I first started out . . . when I actually enjoyed it the most, personally knowing each client and having plenty of time on each case, and doing all the work myself. I keep things small by now focusing only on adult adoptions (where the person being adopted is 18+, whether a stepchild or a non-relative). My website is a popular destination for those doing stepparent adoptions of minors as well, and my website still serves them, but as you read the stepparent adoption pages you will see I direct those cases to a trusted friend of mine adoption attorney friend who previously worked side-by-side with me. Please read the very detailed and helpful information about the stepparent adoption process for children under age 18 here.
Although I have multiple offices (since my legal focus is so narrow, I need to work over a multi-county area), each office is simply an "executive suite" where there is a shared receptionist, thus keeping my costs down, which in turn lets me keep my fees low. Unlike many attorneys where getting past the receptionist is impossible, I am happy to answer a quick question even for non-clients. If you are not ready to fill out the Stepparent Adoption Questionnaire to schedule a free consultation, and have a question that is not answered on the Stepparent Adoption page for your county, you are welcome to email me at [email protected].
On the personal side, I have two children (now adults) and I'm proud they are brave people contributing to the world. The highlight of my life has been raising my children and watching them grow up. All my cases are important to me because I know your family is just as important to you.
READ ABOUT ADULT ADOPTION
(Stepparent or non-relative when the person being adopted is 18+)
READ ABOUT STEPPARENT ADOPTION
(of children under age 18)
Client Reviews
(Reviews from Avvo.com)
  Happy family
Posted by Judy, August 20, 2022
My experience was great! Very nice I am very please. I highly recommend Mr Hicks. You will very be pleased too. Great experience.
 Thank you Allen!
Posted by Anthony, June 13, 2022
Very nice and attentive and is willing to go above and beyond for you. Never once did we have to wonder what was going on with our case. He always let us know what was going on and always checked up on us. Thank you so much Allen for making my family whole.
  Great communicator
Posted by Damara, July 10, 2022
Allen and his staff were super helpful.. They answered emails in an efficient amount of time and updated me when I asked. He was also nice to speak with while waiting for the court. Would recommend.
  Could not be more pleased!
Posted by Kenneth, January 8, 2022
It was a pleasure to deal with a man who does what he says he will do. On budget and on time. Mr. Hicks is a most pleasant man, very professional and easy to converse with.
 Adoption
Posted by Tim, January 31, 2021
Randy was super helpful and easy to use. This was my first experience using a lawyer for anything. He made the entire adoption process simple, informative, and as quick as possible.
 Consummate Professional
Posted by Esther, January 14, 2020
Randy Hicks was the consummate professional in our Adult Adoption proceedings. Ours was a bit tricky with an overseas birth but he navigated those waters with mastery. We are thrilled with Randy . . . 
Click on the office photo above to learn more about stepparent adoptions in your area. When you are ready to schedule a consultation with Randy, please complete his short questionnaire so he can fully advise you when you speak.